CLIFF AT LYONS|ONE FAB DAY -
Cliff at Lyons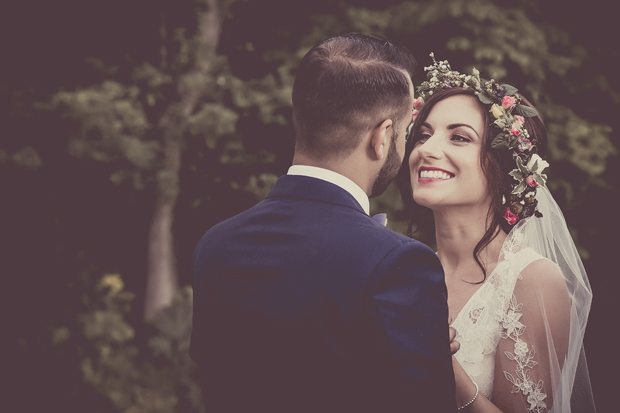 I was thrilled to recently have Fiona & Om's, Boho Vintage Wedding at the Cliff at Lyons featured on Ireland's top and coolest wedding blog – One Fab Day!
"Trish actually photographed my best friend's wedding and we knew from the moment we saw her album that we had found our photographer. In the lead up to the wedding Trish was always available to us to answer any questions we might have, she is incredibly responsive, professional and friendly but above all she is an incredibly talented photographer. All timings were coordinated ahead of the big day so everything ran very smoothly. Trish actually sent us a showreel from our wedding within a week and what a beautiful gift to receive on honeymoon. We were absolutely blown away with the photographs, every special moment was captured perfectly, and no detail was missed. Trish is so discreet on the day, we barely noticed the photograph's being taken during the ceremony and drinks reception! We are going to have a tough time choosing for our album, we would include every single photo if we could!! We will absolutely be recommending Insight Photography to all of our friends and family. Thanks so much! Fi and Om xxx"
They had a gorgeous civil ceremony at The Cliff at Lyons and had lots of gorgeous details – none more gorgeous than Om's Burberry suit and Fiona's dress and flower crown – to die for!!!!
See the article on One Fab Day here.
What's your love story? How did you meet originally and get together? 
We met…over the phone! I applied for a job with a Recruitment Agency in London and I got a call from a very charming Recruitment Manager. I travelled to London for an interview and five years later I'm married to that charming Recruitment Manager. Oh and I got the job too J
How did the proposal go, if there was one?
I was whisked off on a surprise holiday in September 2013, I had no idea where we were going, I was just told to pack a bag for 10 days and meet him at Heathrow airport after work. Seven hours later we arrived in sunny Dubai. He proposed on the first night of our trip, it was so romantic! We were chauffeured off to the most beautiful resort called The One and Only Royal Mirage, where we were seated looking out over their private beach under candlelight. After dinner we kicked off our sandals and took a stroll on the beach, we were walking along and I realized that he wasn't beside me after a few seconds, I turned around to find him a few feet behind me on one knee, it was magical! We called all of our family and friends from the beach to tell them the good news, then went back to the table where there were champagne, petals and cakes all laid out waiting for us!
Could you sum up your wedding in a couple of sentences – how would you describe the look and feel of the day, the vibe:
We wanted a colourful bohemian style, romantic, ethereal wedding. With the rustic garden ceremony, the floral headpieces and the hessian bow ties it was a real throwback to the 1970's. We wanted to create a very relaxed and informal atmosphere for all of our guests to enjoy.
We wanted something rustic and bohemian to reflect our personalities and also because it worked so well with the old worldly charm of the Village At Lyons. We kept the colour palette bright and summery as it was an August wedding, the groomsmen wore indigo colour suits from M&S with navy and hessian bow ties and navy braces. Om wore a deep blue suit from Burberry with a hessian and blue bow tie and navy braces. Their buttonholes had yellow crespedia which really gave the suits a pop of colour. The bridesmaids wore ice blue dresses from Amsale and wax flower crowns in their hair. Our bouquets were very colourful with mixtures of blush pink, pale blue, ivory, coral, peach, yellow, raspberry and burgundy. We had gypsophila in little rustic jars with lace and hessian tied around them on the dinner tables. We had a spiritual ceremony which took place outdoors under the beautiful pergola in the gardens of the Village At Lyons. The Kooky Ukes performed our music for the ceremony, they really created a wonderful atmosphere and they tied in so well with the bohemian theme.
My dress complimented the theme too and was one that I instantly fell in love with Gardenia by Claire Pettibone. Claire is known for her whimsical, ethereal designs, the applique lace created a beautiful effect and the style itself was quite reminiscent of the 1970's.
What was important to you about your wedding- what were your priorities from the very beginning?
Because we both come from different cultural backgrounds it was very important that our wedding was reflective of both of us as a couple. Our wedding was also one of the first opportunities for both sides of the family to meet as my family all live in Ireland and Om's family all live in the UK. With that in mind we decided to throw a very colourful indian themed party the day before the wedding in a restaurant called Delhi Darbar in Celbridge. Everyone wore indian dress, we had an indian sweet table and traditional indian food and drinks throughout the evening. It was a fabulous way for both families to get to know each other and really set the relaxed and fun tone for the weekend ahead. We also decided to include a very fun activity on our wedding day for people to get to know each other, we decided to create 'missions' which were essentially sealed envelopes with tasks to complete on the wedding say such as 'Find Sam Smith on the table plan and take a selfie with him' or 'Do a shot at the bar with Om's Dad' and so on! It was a huge success and people were talking about their missions and how much fun they had with them for weeks
Our ceremony…
Because we both come from very different backgrounds we decided not to have a religious ceremony, instead after some research we opted for a Spiritualist Ceremony which we felt most suited to our personalities and how we live our lives. The ceremony was conducted by the very lovely Tom Farrell at The Village At Lyons. We loved every minute of our ceremony and can't say enough about how helpful Tom was throughout the whole planning process. With his guidance we included a ring warming ceremony, a remembrance candle ceremony, and a hand fastening and holding ceremony. We were able to have all of our immediate family involved in some way in our ceremony and that was very important to us. We had a Ukulele trio called the Kooky Ukes playing throughout the ceremony and drinks reception, they really set the tone and the relaxed atmosphere for the day, we can't recommend them enough!
What made your venue "the one"?
We chose our venue because…simply because it is such a beautiful place. We loved the idea of a little sprawling village and there are very few of its kind in Ireland so when we went to view it we knew straight away that we had found a gem. The grounds are absolutely stunning, little stone cottages with crawling ivy and beautiful flowers, a big Lily pond, an amazing waterfall right outside The Mill where we held our reception, doves in the courtyard, a beautiful pergola in the garden, little quirky foot bridges and the canal flowing through – it's just magical!
What made the day really special and personal to you? (things you included, unusual elements, things that people made or did for you etc)
We put a huge amount of effort into setting the scene for our ceremony and reception so seeing it all come together on the day was really special. We had a lot of help from family and friends, Om's sister Heeral did an amazing job creating our table plan and table names and it was really special seeing it all set up in the reception room on the day. My mum made a beautiful sweet table which was a huge hit with the 30 or so kids that we had at the wedding! During the best man speech, Om's sister Chandni and brother in law Milesh had arranged for a projector to be set up, they played a video of all of our friends and family singing different lines from the single 'Perfect Day', it was one of the most hilarious moments from the day and such a wonderful surprise and keepsake for Om and I!
We also decided to release Chinese lanterns after the meal out in the garden, we were very lucky with the weather, it was a beautiful clear night and seeing all the lanterns twinkling in the sky was truly special.
My favourite part of the wedding day…
hearing the Ukele's strumming the wedding march and walking up the aisle to Om with my big brother, it was a very emotional moment.
What advice would you give to brides and grooms planning their day?
Don't get too stressed out in the planning stages and don't get too caught up in the minor details, organizing a wedding is a big task and can at times get a bit overwhelming, delegate to friends and family, they are so excited to be celebrating with you and are only too happy to be part of the preparations!
Where did you go on honeymoon?
We went to the Amalfi Coast for a week, we based ourselves in Positano and did day trips to Amalfi town, Capri and Ravello and then we went on to Oia in Santorini for the 2nd week, both places were heaven!
The details:
Wedding location – Ceremony & Reception : The Village At Lyons, Celbridge, Co. Kildare
Wedding invitations – Something Kind Cute
Floral Headpieces – The French Touch
Bridal shoes – LK Bennett
Wedding dress: Claire Pettibone's 'Gardenia' from the Romantique collection
Veil – Claire Pettibone
Bridesmaid shoes – Monsoon
Grooms suit – Burberry
Groomsmen Suits – M&S
Groomsmen Braces – M&S
Flowers and props – The French Touch
Reception Table Flowers – Absolutely Fabulous flowers
Lantern hire– Absolutely Fabulous flowers
Cake stand – Etsy (Old Chapel Weddings)
Cake – McCloskey's Bakery, Navan
Men's Bow Ties – Etsy (Bug and Pepper)
Wedding signage – Etsy and Specialpressie.com
Table Plan – Om's sister
Table Names and Numbers – Om's sister
Ceremony Music – The Kooky Ukes
Evening Band and DJ – Blacktye
Ice Cream Cart – Rockfield Ice Cream
Children's Entertainer – geniemackers
Videographer: DIGA Video Production