AILBHE & ADAM -
Castlemartyr Resort & Spa | April 2015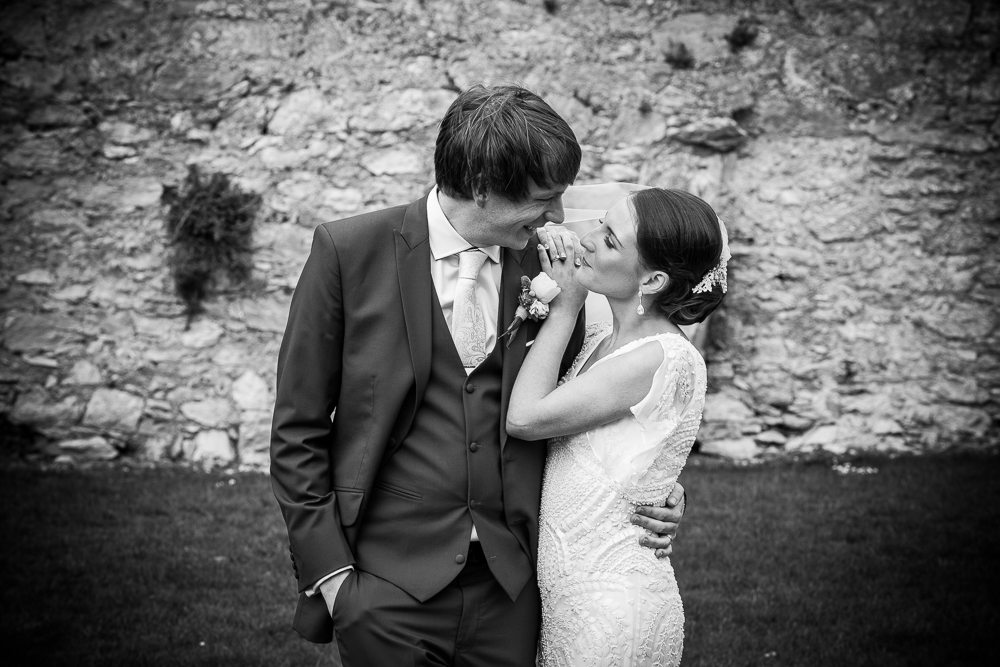 I have to say I absolutely LOVED Ailbhe's dress – the beading detail was just stunning, as was the venue for their Co Cork wedding in the gorgeous Castlemartyr Resort & Spa. We even got to use the presidential suite where the likes of Bruce Springsteen, Beyonce and President Clinton stayed, which was a rare and impressive treat!
The rest I'll let Ailbhe fill you in on…
"We had a brilliant day! I didn't expect to enjoy it as much"
Length of engagement:9 months
Wedding Date:17/4/15
Ceremony Location: Church of the annunciation Blackpool
Wedding location: Castlemartyr resort 
We met…
1st year in college in Glasnevin in Dublin when we moved into the same 'digs' although it took a few years for romance to blossom
Our proposal…
botanic gardens Glasnevin close to where we had met and where we had gone on many walks together especially to walk off a hangover
Our wedding theme/colours…
'rustic Art Deco!' Pink, peach, gold, navy, royal blue, Ivory
My dress…
lucille by eliza jane howell purchased in lilac rose in Limerick and alterations by Hanna Blackmore from little island
My favourite part of the wedding day…
Drinks reception and dancing!
My piece of advice for other brides…
Get the luggage logistics right for the day!!
Suppliers:
Bride's Dress: 'lucille' by eliza jane howell from lilac rose in Limerick
Bridesmaids Dresses: lori lee dress from coast
Groom: a suit that fits 
Bridal party: monza menswear
Flower girls Dress: Macy's (nyc)
Invitations: Susan Cunningham 
Hair: upstyle junkie -Audrey
Make Up: Liz McCarthy
Flowers: Fox flowers – Sharon
Cheese: Sheridans and dressed by the chef at castlemartyr
Sweets: bite size midleton 
Hair Accessories: Emmy mc Cormick – bride
Videographer: Sinead- under the apple tree 
Band: spring break 
Other: barber shop boys (drinks reception castlemartyr)
Rings: CM Weldon 
Church music: Claire Cunningham, dan burns and Rua string ensemble
Kind words from Ailbhe & Adam:
I've heard people saying before that a photographer can make or break your day. I never really understood this until my own day. Timings are very important and Trish was exceptional at organising this- if only I had stuck to her guidelines! Even at this though she was able to adapt to any changes that came along. You would hardly realise that Trish was there but yet she made her presence known when she required an action. She was much more than a photographer as she gave us bits of advice like which side of each other we needed to stand etc. After the church herself and Videographer Sinead from under the apple tree advised us to stand outside the church which we really appreciated afterwards. You would think this would be a natural thing to do as it was a nice day but when there is so much going on it is great to get some guidance. In addition I had decided I would like a female photographer after seeing Trish in action at a friends wedding. On our wedding day the thought struck me a few times that I was so glad we had a female photographer. Trish was also extremely patient with all of our guests which we thought was lovely! I would highly recommend Trish from insight photography as she has everything you would want in a wedding photographer and I haven't even mentioned the photos!!